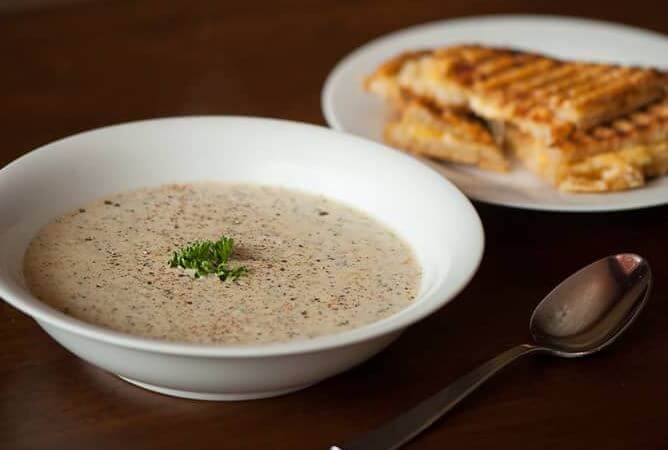 Whether you love broccoli, tolerate it when necessary, or the mere sight of broccoli makes you sick, this ultimate broccoli cheddar soup will be loved by all. It is the perfect union between naughty and nice. Healthy broccoli meets sinful sharp cheddar and heavy cream. Finished with a dusting of ground nutmeg and dare I say, a grilled cheese sandwich on the side, and you will love this.
Broccoli. Not a fan. I'll eat it when I have to, like when I'm at someone's house and its being served to me, when I'm trying to lose weight and will choke it down raw, or when I'm stuck on a desert island and the only thing keeping me from starving is that stalk of broccoli growing in the sand. Oh wait. There's one other time I'll eat broccoli. When its cooked and smothered in cheese such that all the nutrients are null and void, but its oh so delicious. See them onions turning a golden brown in that bubbling butter? Its basically Foodie Law that any recipe that starts this way will be delicious.
I've made my fair share of broccoli soups that were mediocre. This was the first recipe I was really please with. The not-loving-broccoli husband even approved. If you're not a fan of broccoli, you will like this soup. The secret ingredient? A sprinkle of nutmeg to finish it off.
I served mine with Triple Threat Grilled Cheese Sandwiches and Browned Butter Brownies for dessert. Yeah – that wasn't a smart choice. I felt instantly fat, but it tasted good and sometimes that's all that matters.
INGREDIENTS
5 tablespoons butter
1 small yellow onion, chopped
1/4 cup flour
2 cups half and half
2 cups chicken stock
1 small to medium head broccoli (roughly 2 cups with most of the stem removed)
1 cup carrot, diced
1/4 teaspoon nutmeg
8 ounces sharp cheddar, shredded
kosher salt and fresh ground pepper to taste
INSTRUCTIONS
In a medium stockpot or dutch oven over medium high heat, melt the butter. Add the onions and saute until light brown, 5-6 minutes.
Evenly sprinkle the flour over the onions and stir occasionally until the entire mixture is lightly brown and fragrant, 5-6 minutes. At this point the raw taste of flour has been cooked out and its ready for thickening.
Reduce heat to medium and add the half and half and the chicken stock. Stir to fully incorporate. Continue to cook over medium heat for 20 minutes, stirring occasionally while scraping sides and bottom of pot.
Reduce heat to low. Add broccoli and carrot. Stir to incorporate and occasionally stir while scraping bottom and sides of pot. Simmer for 25 minutes.
Remove from heat and allow to cool enough to safely pour into blender. Pulse 3-6 times until desired consistency is achieved. I like mine with small chunks – big enough to chew but small enough to make me forget I'm eating broccoli.
Return mixture to pot. Add nutmeg, shredded cheese and salt and pepper to taste.
Serve with a fine dusting of more nutmeg as well as fresh ground pepper.