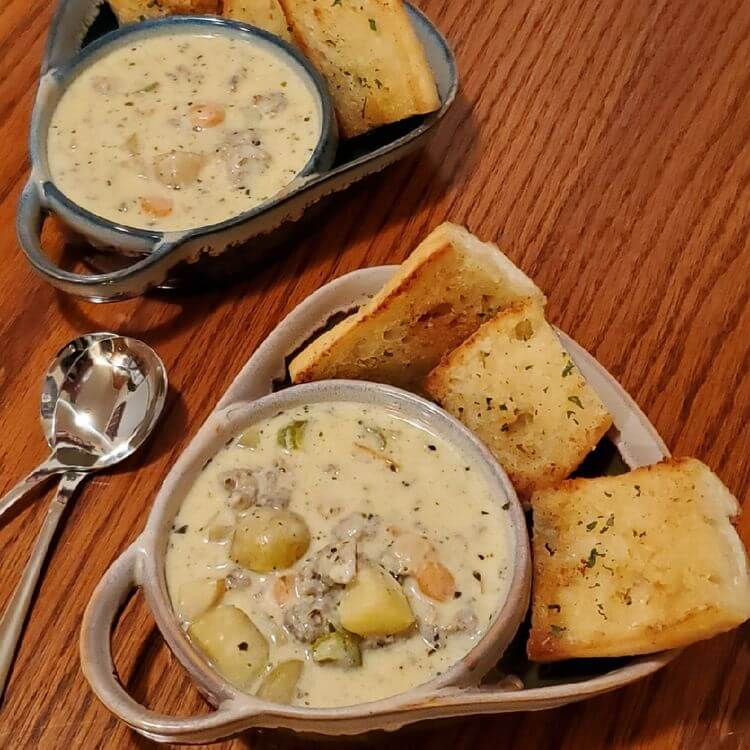 This is one of my all time favorite family soup recipes. On a cold day my mom would serve this soup with fresh hot cornbread and we would quickly be satisfied and warmed up. Bacon is an essential part of the flavoring in Potato Soup and should not be skipped. This soup is usually peppered pretty well as that is the soups style but you should do it to your specific likings.
Ingredient:
2 pieces of turkey bacon, diced
2 tablespoons butter
1 onion, finely chopped
2 chicken bouillon cubes
1 teaspoon dried parsley
1/2 cup chopped celery
6 large potatoes, peeled and diced
1 cup water
3 cups milk
1/4 cup flour
Salt and pepper to taste
Directions:
In a 4-inch skillet on medium heat add butter, onions and turkey bacon. Cook until onions and celery or tender.
In a 8-quart saucepan on medium-high heat add water, parsley, milk and bouillons. Carefully add potatoes and onion mixture. Bring soup to a boil, reduce to low and cover. Allow to simmer one hour.
Before serving soup add flour, mixing continuously until well blended. Add salt and pepper to taste.