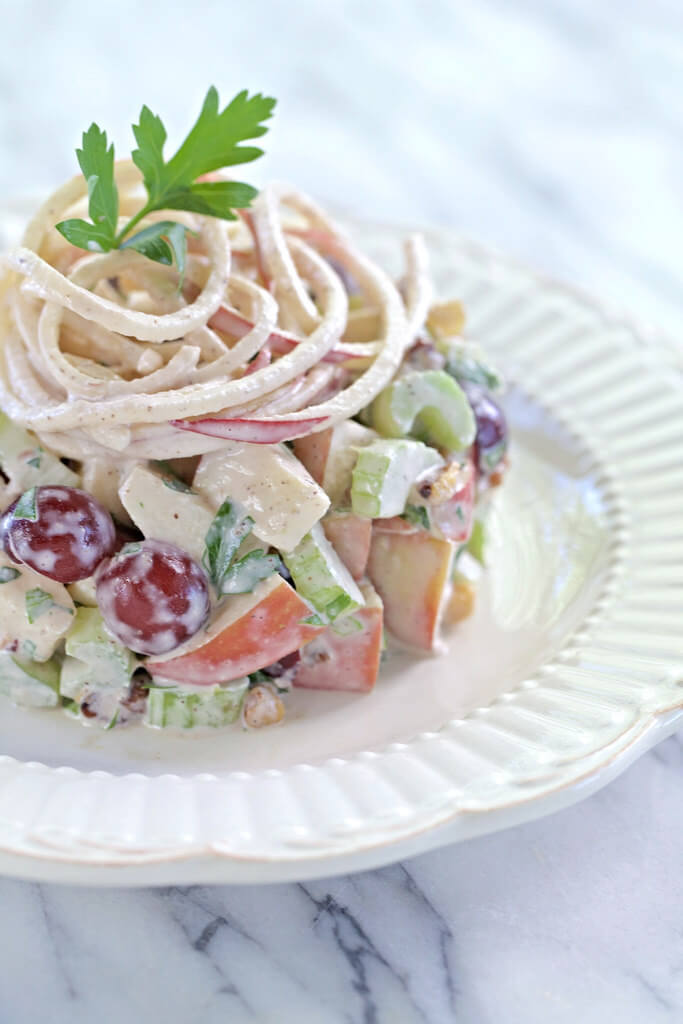 Waldorf Salad is one dish that takes me straight back to my childhood at my grandma's house. She served simple food with love – like sliced tomatoes sprinkled with black pepper and peach slices drizzled with a little cream. And Waldorf Salad.
This apple, walnut and celery salad was actually one of her fancy dishes, served on a lettuce leaf. She said she felt like Lady Astor dining at the Waldorf Hotel whenever we ate it.
It made her happy, and so I loved it, too.
The California Walnut folks are having a contest to do an update on the classic Waldorf salad. #WaldorfSaladRefresh. I knew I had to join in on this in honor of my grandma.
The first thing to go was the mayonnaise. For me, it just seemed to heavy and fatty for this light crunchy salad. So, I used Greek yogurt. I blended the yogurt with some toasted walnuts to give the sauce a deep, rich walnut flavor throughout, and added lemon juice and zest to brighten it up..
I thought of adding dried cranberries, but they didn't add enough of a kick. So I added minced crystallized ginger – WOW does this wake up this salad with a zing!
And one more thing – I spiralized an apple and tossed it in the creamy walnut sauce to finish with a pretty presentation.
Waldorf Salad for the 21st Century!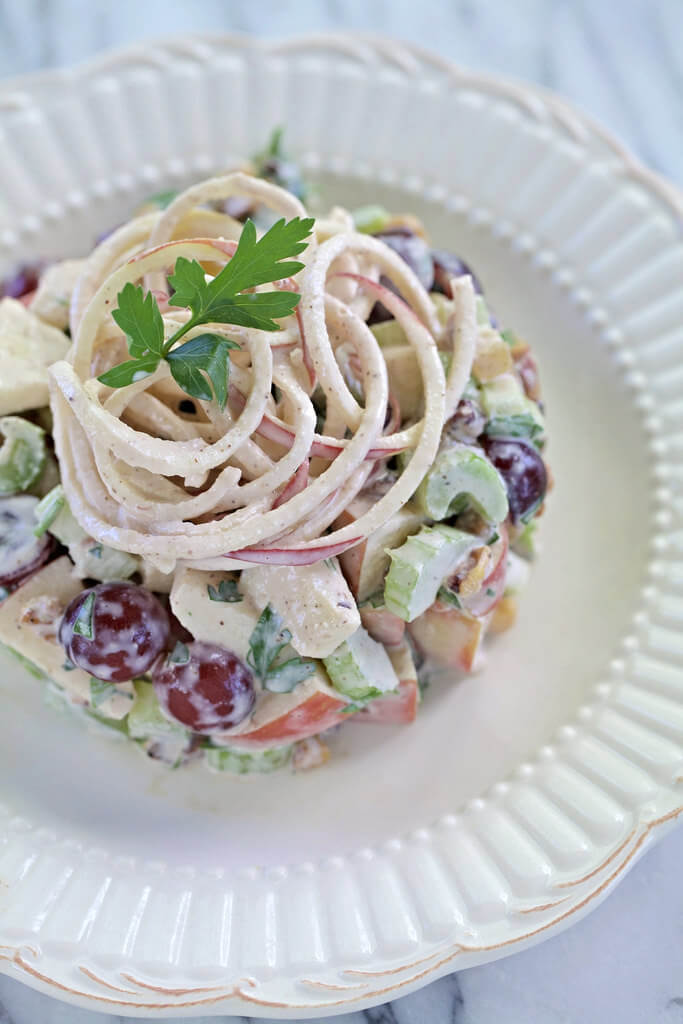 INGREDIENTS
1 cup diced California walnuts
1 tablespoon olive oil
1 cup plain Greek yogurt
1 tablespoon honey
1 tablespoon lemon juice + 1 teaspoon finely grated lemon zest
Pinch of salt
2 large Fuji apples (16 ounces total), divided
1 cup diced celery
¼ cup diced celery leaves
¾ cup halved red seedless grapes
¼ cup minced crystallized ginger
2 tablespoons diced flat leaf parsley, plus a few leaves for garnish
INSTRUCTIONS
Preheat oven to 350 degrees.
Toss walnuts in oil and spread on a baking sheet and bake for 10 minutes. Let cool to room temperature.
Place half of walnuts in a blender with yogurt, honey, lemon juice, zest, and salt. Blend until very smooth, about 60 seconds.
Cut one apple into long thin spirals with a spiralizer. Apple pieces should be a little bigger in width than spaghetti noodles. (NOTE: A spiralizer is preferred for cutting the apple – it makes a beautiful presentation. If there is no spiralizer available, cut apple into julienne strips that are ¼ inch thick.) Toss the cut apple spiral pieces in half of the walnut cream blender mixture and set aside.
Core the remaining apple and cut into ½ inch chunks. Toss together the remaining walnuts, apple chunks, celery, celery leaves, halved grapes, crystallized ginger and parsley. Stir in the remaining walnut cream blender mixture.
Using a 4-inch wide ring mold, spoon this mixture onto center of four salad plates, pressing down with a spoon so that the salads are solid and hold the round shape when the ring molds are removed. Divide the coated spiral apple pieces into four parts and place one part on top of each salad, arranging so that the pieces are piled high so that the spirals make a dramatic presentation. Garnish with parsley leaves.