It's another long post referencing the recent events I keep discussing.
Skip to the recipe if necessary.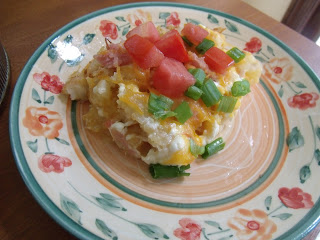 I'm a people-person by nature. To the tenth degree. I need to be surrounded by people at all times or I get antsy. I'd never want a job where I didn't have to converse with a person daily. I loved waitressing because I was talking with strangers all the time, and my current job lets me interact with others a lot more than I expected office work would. Weekends I try not to sit still for a minute or be by myself for longer than a few hours. Lately I've been more comfortable with being by myself, but for the most part I'd prefer to be sitting with someone, even if we're not talking and just watching tv or a movie or something, rather than doing it on my own. This summer began with me being antsy quite a lot, since I suddenly found myself feeling very friend-less.
My mistake was that my boyfriend was my entire social life. His friends were my friends. I didn't have to worry about what I was going to do or who I was going to see, it was all done for me. If nothing else, it was me and him hanging out in his room watching tv just hanging out. When we broke up, I was suddenly way more alone than I'd initially expected. No boyfriend, no circle of friends, nothing to do and quite lonely.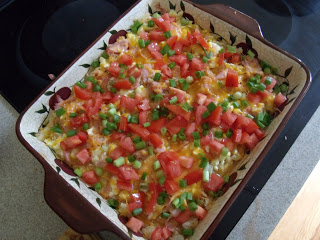 The good that's come from this, is that it forced me to make my own social life. I reconnected with old friends, made new friends, strengthened friendships with acquaintances, and visited far away friends that I hadn't seen in over a year. I never thought of it in the sense that these people didn't matter to me before, they did, I just had been too lazy to seek them out myself. I figured if they really wanted to see me, they'd reach out to me–but what if we all had this mentality? Nobody would see anybody. This didn't occur to me until I HAD to be the one to call, and made me realize I'd actually been scared to call people, scared to be turned down when I needed it most. And, with an exception or two, nobody turned me down, and it led to some great times with wonderful people.
Would this have happened otherwise? Maybe, but this was definitely the push I needed to get myself together and not rely on a guy for all my fun. When I'm upset I need to surround myself with positive thinking and positive people I can have fun with. I was terrified of not finding that, but I did. I am so grateful to everyone whose helped me through it all and just been there for me. And the people I've met or re-met or whatnot have been worth it, tenfold.
To all of you, friends old and new, thank you. Thank you for your support, for pulling me out of my slump, and for being there to laugh with and listen. I want to make you all cookies and cakes and four course dinners to express how much I appreciate your friendship. For all you've done for me.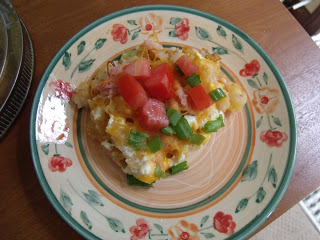 How about some breakfast? After all, it IS the most important meal of the day!
I recently went to a Pampered Chef party and was way too sidetracked by all the amazing products I wanted to buy to write down how to make this crazy breakfast casserole thing they made. So I tried to use my taste-memory to recreate it, since it did not come in the recipe book I bought that day. It's a perfect blend of all the best breakfast foods and can probably be edited to be healthier and less greasy–but why on Earth would you want to do that?
Breakfast Casserole
(Based on a Pampered Chef recipe I cannot find anywhere)
package of frozen hash browns (defrosted)
4 slices ham
1-2 cups shredded cheddar
6 eggs
1 package cream cheese
2 stalks green onion, diced
1 tomato, diced
-Grease a 9×9 baking dish and set oven to 350 degrees F. Crumble hash browns into bottom of dish. Top with half of the ham and cheese, then mix together.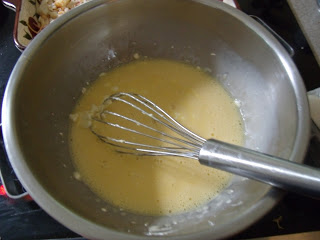 -Whisk together eggs and cream cheese until well blended. Pour over hash browns and top with remaining ham and cheese (I added two additional eggs since I didn't think I had enough for the dish I used). Bake for 30 minutes.
-Top with onion and tomato. More cheese if you wanna.