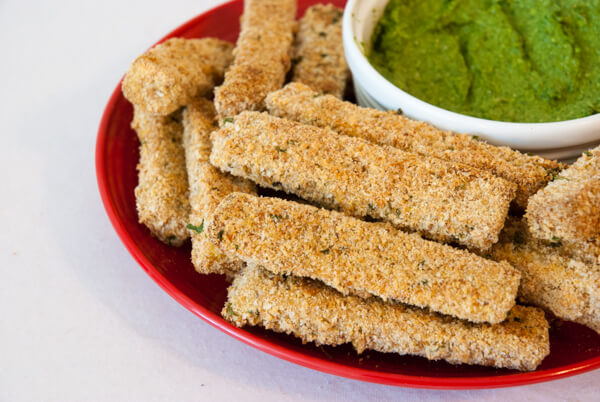 I'm famous for spending long hours in the kitchen and creating catastrophic messes whenever I cook or bake. Sometimes, when I'm prepping potential recipes for the blog, I can spend an entire day in the kitchen. It's easy to lose track of time and to overlook the accumulating mess that grows exponentially as my minutes in the kitchen wear on. But in my defense, I do it all for you guys!
When I actually do make it in and out of the kitchen in a timely manner with a semi-contained mess, I'm pretty ecstatic. It's a beautiful thing when a successful, tasty recipe comes together with minimal chaos and casualties. For example, I whipped up my crunchtastic Baked Eggplant Sticks AND fresh Spinach-Basil-Parmesan Pesto dipping sauce in an hour. How fantastic is that?
You know what's even more fantastic? That means YOU can have crispy, golden brown Baked Eggplant Sticks with Spinach-Basil-Parmesan Pesto in under an hour too. This just may be the best and tastiest treat you'll ever whip up in that amount of time. And who can say "no" to a snack that easy and that flipping-eggplantastically delicious?
Sidenote: Guys, Microsoft Word doesn't know anything. CLEARLY flipping-eggplantastically is a word.
Or at least, it should be.
When you bake these snackable babies up (gosh, there's another non-word that needs to be a word), the eggplant becomes so tender that it melts in your mouth, and the breading turns crisp and crunchy. Sure, they're yummy as is, but when you send 'em for a dunk in that homemade pesto, their deliciousness is infinitely elevated. You've got so much flavor in that fresh, smooth pesto, and it goes perfectly with the eggplant sticks.
And before you even think about skipping the sauce or buying store-bought, let me tell you this: you can make the pesto in less than five minutes, it's way cheaper than store-bought, and you can prepare the sauce while the sticks cook. Yay multi-tasking, time-saving, and money-saving!
These guys are healthier, more satisfying, and world's more delicious than any other snack you can think of or buy. And if I can put them together in a timely fashion with ease and grace (okay, maybe minus the grace part when it comes to my klutzy self), then anyone can.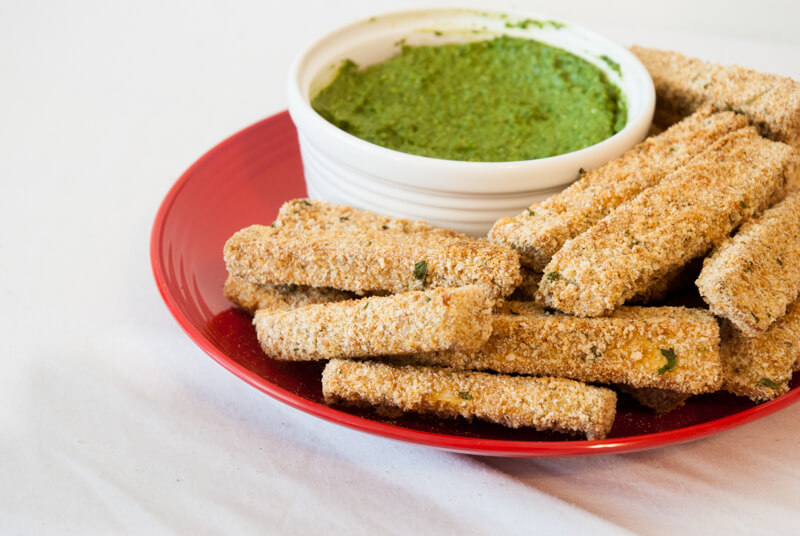 A Few Tips Before You Get Cooking:
If you're not a pesto fan, of course marinara would still be just as delectable here.
Add some grated parm to the breading mixture, if you like.
Be careful not to overcook these; the eggplant will dry up and essentially evaporate so you're left with a carcass of breading that gives way to nothing, like that collapsing turkey in the movie Christmas Vacation.
This pesto's good for more than just these sticks. Serve it over pasta, spread in on crusty bread, fold it into mac and cheese, put it on a grilled cheese, coat veggies or chicken in it, and more.
Using the egg substitute allows us to get away with not using milk in the breading since egg substitute is less goopy than real eggs. If you insist upon using real eggs, you'll need 1 egg for every ¼ cup of egg substitute, and you'll have to add some milk.
Baked Eggplant Sticks with Spinach-Basil-Parmesan Pesto Dipping Sauce
Ingredients
1 large eggplant

2 cups all-purpose flour

2 cups egg substitute like Egg Beaters

2 cups seasoned breadcrumbs

Spinach-Basil-Parmesan Pesto, recipes follows

¼ tsp. salt
Instructions
Preheat oven to 350 degrees. Line a baking sheet with aluminum foil and spray with nonstick spray.

Remove stem from the eggplant. Slice eggplant into sticks about 1/8″ wide and 4″ long (doesn't have to be precise, but don't make them too thick, or they'll take forever to cook). Make sure all your sticks are relatively the same size so they cook even. Cut off skins.

Put the flour, egg substitute, and breadcrumbs into three separate large, shallow bowls. Dip each stick into the flour, followed by the egg, and finishing with the breadcrumbs, making sure to completely coat the sticks with each layer. If the flour or crumbs start to clump up, break it up with a fork or sprinkle more flour/crumbs into the bowls.

Spread sticks out in an evenly layer on a baking sheet and sprinkle with salt. Bake sticks for 35-40 minutes, making sure to flip halfway through, or until golden and tender in the middle. Don't overbake, or they'll dry out.

While the sticks bake, make the pesto according to directions below.

Serve sticks immediately with pesto for dipping.