This Beef Stew is one of the best things your crock pot will make for you. After each bite of this my husband would say, "Steph… This is REALLY good"……….. "Steph.. this is REALLY good!" (Well duhhhhhh) With hearty chunks of tender beef and delicious vegetables that marinade in rich and flavorful beef broth, who wouldn't be in love?
Crock Pot Beef Stew (optional, but recommended) Prep Work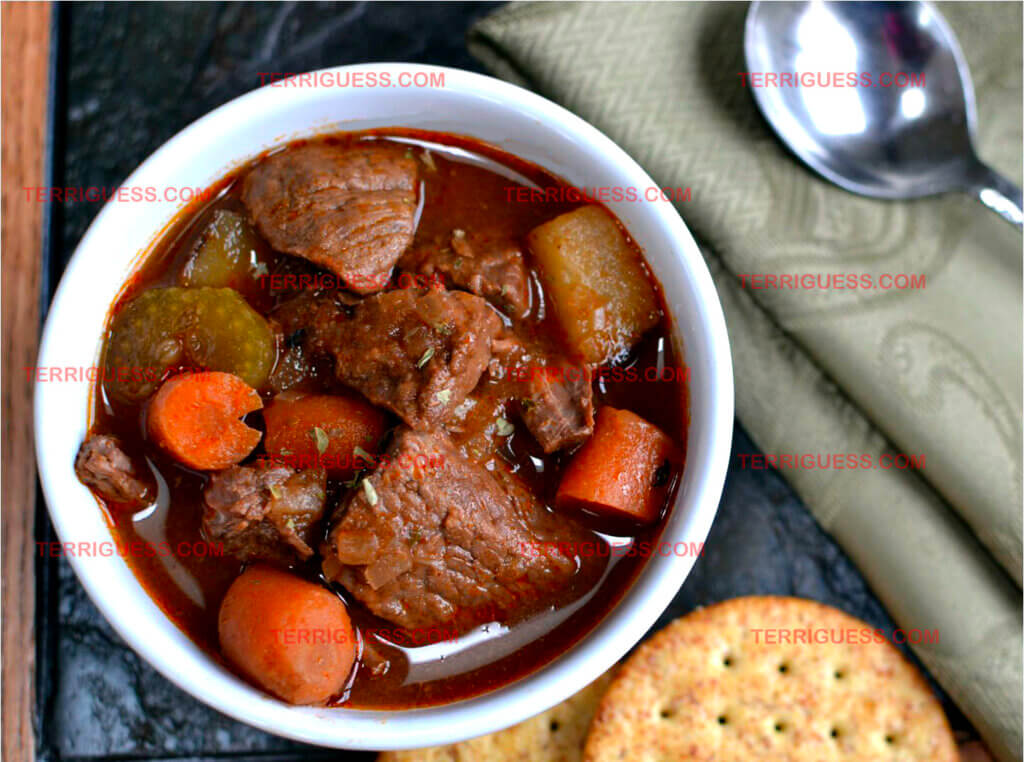 There is a little prep work that I recommend before throwing it all in, it enriches the flavor, trust me. It's worth it. I know the beauty of a crock pot is throwing it in and walking away, and you can do that, but the few extra steps I have outlined in this recipe don't take long and you'll thank me when you're eating it : ) Basically, we give the beef and some of the vegetable a little cooky-cook before putting them into the crock pot. (Oh yeah, I said "cooky cook". This really increases the quality of the flavor and texture of the soup.
Ingredients
2 pounds boneless chuck roast, cut into 1 inch pieces
Salt and pepper
2 tablespoons olive oil, divided
1 medium yellow onion, finely chopped
3 oz. tomato paste (1/2 of a 6 oz. can)
3 teaspoons "better than bouillon" mixed with 3 cups hot water (you can sub w/ 3 cups beef broth)
2 tablespoons soy sauce
1 bay leaf
1 teaspoon dried thyme
½ teaspoon rosemary
10 baby carrots, chopped in half
2 sticks of celery, diced in ½ inch pieces
4 medium red potatoes, washed and cut into 1-inch pieces
¾ cups frozen peas, optional (I forgot these!)
Instructions next page
Instructions
Pat the meat slightly with paper towels and sprinkle with salt and pepper. Heat 1 tablespoon olive oil in a large pot over medium/medium-low heat and add the meat. Brown on each side, but do not cook all the way through, keep it nice and tender. Add the meat to the crock pot but keep the remaining oil in the pan.
Add the diced onions and cook slowly, covered, until they're translucent and soft, about 10 minutes. Whisk in the tomato paste, broth, soy sauce, ½ teaspoon of thyme, and bay leaf. Simmer for an additional 5 minutes, then bring to a boil. Pour over the meat in the crock pot.
In a large bowl, toss the carrots, celery, and potatoes with 1 tablespoon olive oil, ½ teaspoon of thyme, ½ teaspoon rosemary, and a sprinkle of salt and pepper.
Take heavy-duty foil, or double-up on regular foil, and make an insulated pouch where the vegetables can cook inside it. Place on top of the beef in the crock pot. Cook on low for approximately 8 hours, or on high for 4-6.
When finished, carefully remove the foil pouch and open cautiously, there will be some steam that comes out. Discard the bay leaf and pour vegetables into the stew and mix around. Add the frozen peas and cook for an additional 10 minutes.
Serve and enjoy!