Who the HECK said that making fudge had to be hard?! I was done with this in 20 minutes and already had all of the (four) ingredients in the house to make it. WOOO! My only problem now is that it's tasty as HECK. It tastes like it was hard to make. (No need to tell people that it's not.)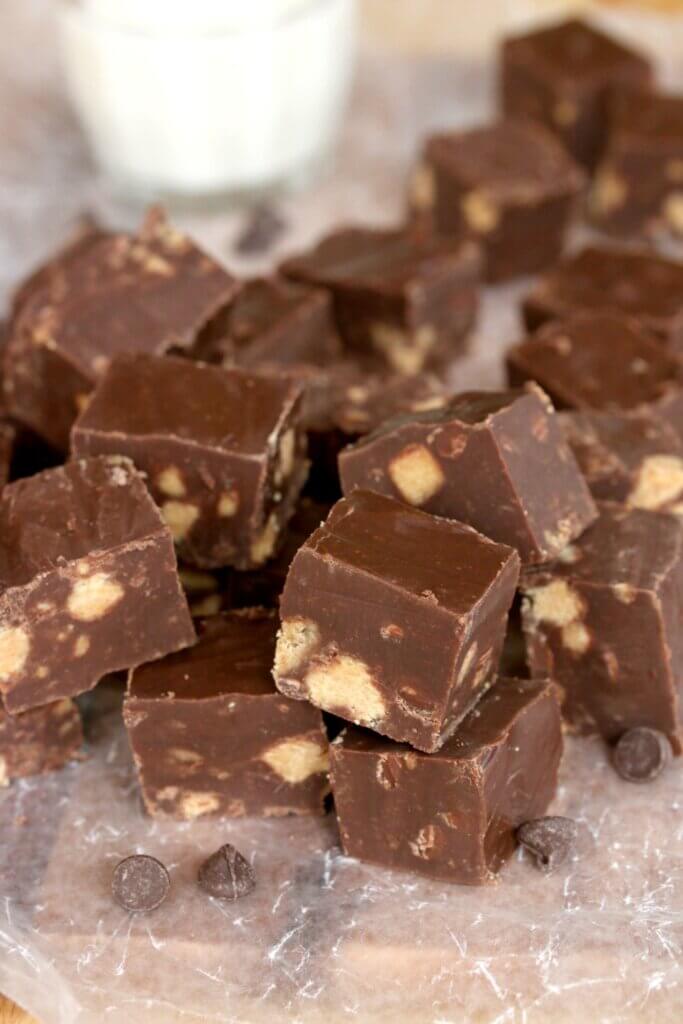 The original recipe calls for walnuts but I decided that peanut butter was calling my name instead, so I chopped up some peanut butter cups and it worked like a charm. (Wonder what else you can toss in here?! Chopped up Snickers would be fabuloso….)
This easy-peasy fudge is inspired by my…
Easy Chocolate Peanut Butter Cup Fudge {4 ingredients!} Prep time: 5 mins Cook time: 20 mins Total time: 25 mins
Ingredients
1 (14 oz.) can full-fat sweetened condensed milk
3 cups semi-sweet chocolate chips
1 teaspoon vanilla extract
1.5 cups diced peanut butter cups
Instructions
Line an 8×8 inch baking pan with foil, letting the sides drape over so you can easily lift out the fudge after it sets.

In a medium saucepan, combine the chocolate chips and the condenced milk. Heat on medium, stirring constantly, until the mixture is smooth. (This takes a good 20 minutes or so.)

Remove the pan from heat and mix in the vanilla and the peanut butter cups.

Pour into the lined baking pan.

Let it set in the fridge for 4 hours or at room temperature overnight.

Use a sharp knife to cut it into 1-inch squares. If the fudge is cold, let it sit out for about 20 minutes before attempting to cut.
Notes:
The original recipe uses 1 cup of walnuts. Feel free to substitute this instead of the peanut butter cups!