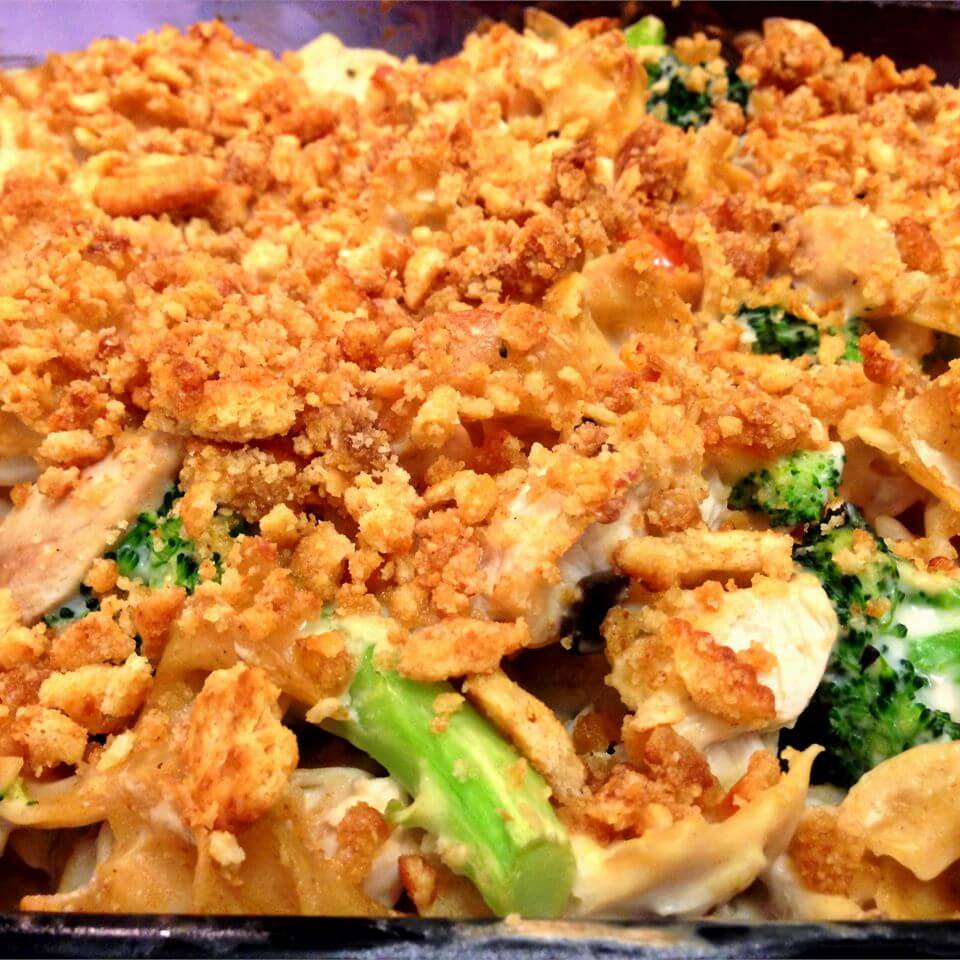 A pot pie is a baked savory pie with a bottom and top, or just top, of flaky crust. This recipe is made with a package of puff pastry, as well as the other ingredients, and you need to roll the pastry out and top it with the chicken and vegetable mixture. You can either use one sheet of puff pastry or little discs of it. They puff up when you cook them. Another option is to use vol au vent shells for this curried chicken pot pie.
This chicken pot pie recipe contains plenty of vegetables, as well as parsley, curry powder and seasoning for flavor. This chicken pot pie recipe is delicious served with mashed potatoes. For the vegetable mixture, you can choose from peas, carrots, corn, mushrooms, or whatever else you fancy. If you are using frozen vegetables to make this chicken pot pie recipe you can just boil them until they are hot and tender. If you are using fresh ones, follow the recipe and bake them until tender. Use any kind of vegetables you like or perhaps you have some past their prime veggies in the refrigerator which would go nicely in this easy chicken pot pie recipe.
This recipe calls for some of the vegetables to be sweated. Sweating is when you cook food over a low heat in a little fat, usually in a covered pan. The vegetables will soften and cook in their own juices without browning. The veggies do not need to brown to make this recipe chicken pot pie. Sweating can be done in the oven but is usually done on the hob. This is a hearty warming chicken pot pie recipe, which the whole family will love because of its delicious flavors.

Ingredients –
4 cups fresh or frozen vegetables
2 tablespoons canola oil
1 package puff pastry
2 cups cubed, cooked chicken
˝ teaspoon fresh ground black pepper
1 teaspoon salt
3 tablespoons butter
1 cup chopped celery
1 cup chopped onion
1 ˝ cups chicken broth
˝ cup milk
2 tablespoons dried parsley
1 teaspoon curry powder
3 tablespoons flour
Preparation:
Preheat the oven to 400 degrees F.
Toss the vegetables with the canola oil and spread on to a sheet pan. Bake until golden brown.
Heat 1 tablespoon of butter in a sauté pan and sweat the celery and onion.
Heat the milk and broth in another pan. Add the rest of the butter to the celery mixture and cook out the water.
Add the flour and curry powder. Cook for 2 minutes. Whisk the hot milk mixture and cook until it thickens up. Add the salt, pepper, and parsley.
Toss the vegetables and chicken. Pour into a shallow baking pan lined with foil and top with eight circles of puff pastry.
Bake until the pastry has browned and the mixture is bubbly and hot.
This will take about 25 minutes.