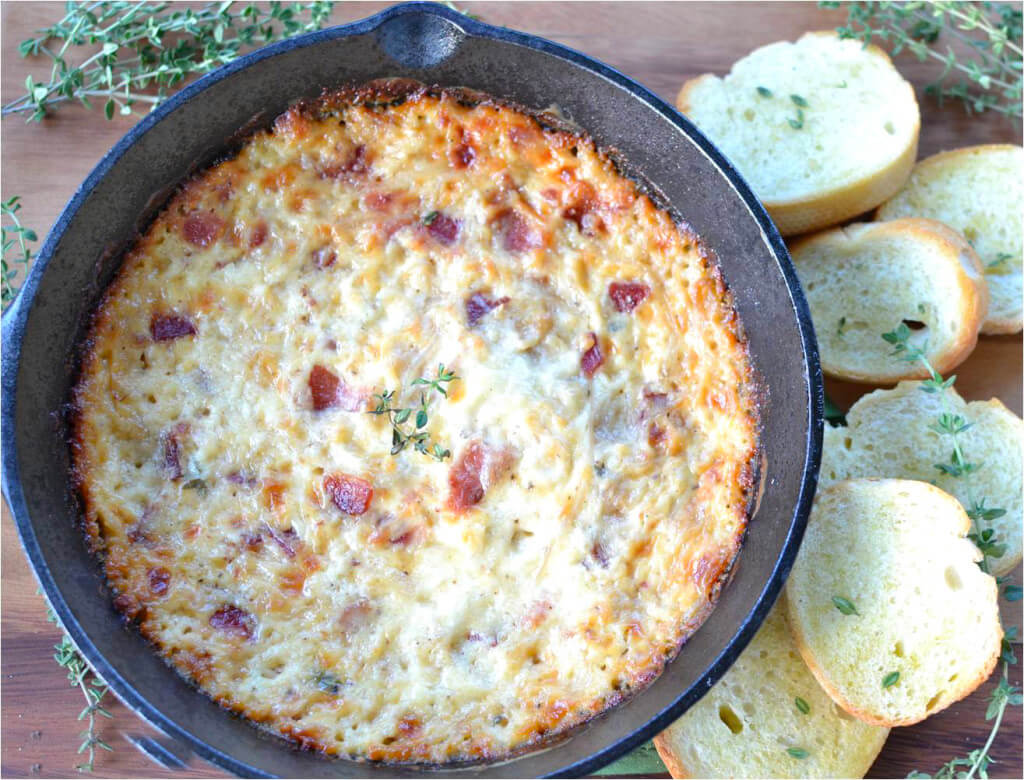 So recently I was making a big ol' batch of my French Onion Soup when I decided that French onion soup in the form of DIP would be delicious. I tried to think of how I might make it, but couldn't really come up with a solid plan. Shortly afterwards, this recipe waltzed into my life and it was exactly what I was trying to envision in my head. Caramelized onions mixed with hot, savory gruyere cheese sprinkled with fresh thyme. Tell me you didn't just drool. Dipping freshly sliced French bread into this heavenly dip is like, a miracle on earth. I sliced the onion into strings, next time I might try chopping them into small pieces to make dipping a little easier. The onions will caramelize either way… but I'm still glad I chose strings this time because it was more onion soup-like  : )  Fall is coming and hot dips are perfect for football season, get to it!
Ingredients
4 bacon strips
2 sweet onions, halved and thinly sliced
¼ teaspoon sugar
¼ teaspoon sea salt
1 tablespoon dry sherry
¼ teaspoon tabasco
½ teaspoon chopped fresh thyme
1 cup shredded Gruyere Cheese
½ cup sour cream
½ cup mayo
¼ teaspoon freshly, ground black pepper
1 loaf of french bread for dipping
1 tablespoon olive oil
Instructions
Preheat oven to 400 degrees.
Cook bacon in a nonstick skillet on medium heat until crispy, remove from skillet and set on paper towels to drain excess grease. Crumble when cool enough to handle.
Leave remaining grease in skillet and add onions, sugar, and salt. Cook on medium-high heat for 5 minutes, then reduce heat to medium and cook slowly, stirring occasionally. The onions will eventually change to a deep brown color- be patient during this process as it can take 20 minutes or longer. Make sure that the onions don' t burn- if they are cooking too rapidly, reduce the heat further.

Add the sherry and let simmer for one minute. Add thyme and Tabasco and remove from heat.
Combine the sour cream and mayonnaise in a separate bowl. Add the cheese, bacon crumbles, onion mixture, and black pepper. Pour into a 2-cup baking dish large or cast iron skillet. Bake for 20 minutes or until dip is golden brown and bubbly.
Cut french bread into ½ inch slices, brush with olive oil and sprinkle with fresh thyme. Place in a preheated 350 degree oven for approximately 8 minutes, Remove and let sit until cool enough to handle, then dip and enjoy!