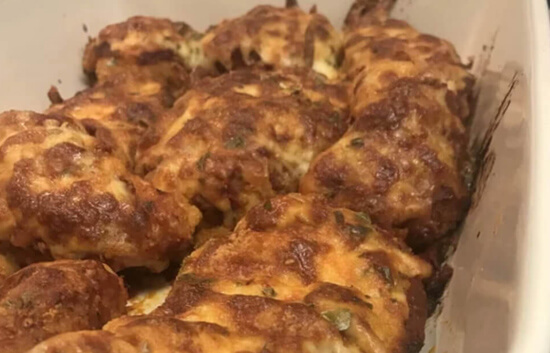 Looking for an incredibly easy chicken piccata recipe to try at home? Try our delicious version of this favorite chicken dinner. It is full of flavor yet does not contain a lot of varied ingredients or require any complicated cooking methods. Served with a side of steamed asparagus spears this chicken dish provides taste, visual appeal, and does not take long to prepare or to make.
Ethnic inspired, international recipes like our Italian chicken piccata dinner are full of flavor yet simple to cook. Easy chicken recipes are ideal for busy families or whenever you do not have a lot of time to prepare dinner yet still want something substantial to serve. This classic dish takes all of the hard work out of making a full meal thanks to the flour breading used to cover the chicken. The light breading makes it nearly impossible to over or undercook the poultry. When the thin pieces of chicken are browned you will know they are done and ready to be dressed with the tangy lemon sauce.
Serve this chicken piccata recipe as the main course for dinner or for your next special occasion. Whether it is the holidays or a quiet gathering with friends this easy chicken recipe will give guests a myriad flavors to enjoy. The butterflied chicken breasts are tender, juicy and practically melt in your mouth. The light breading adds interest and taste to the poultry but does not overwhelm its natural flavors.

Ingredients –
2 skinless and boneless chicken breasts, butterflied, cut in half
Salt and freshly ground black pepper to taste
Pinch of garlic powder
All purpose flour, for dredging
6 tablespoons unsalted butter
5 tablespoons extra-virgin olive oil
⅓ cup fresh lemon juice
¾ cup chicken stock
½ cup brined capers, rinsed
⅓ cup fresh Italian parsley, finely chopped
Preparation:
Season the cut chicken breasts with salt, black pepper, and garlic powder to taste then dredge lightly in flour. Shake the excess flour off and set the chicken aside.
Heat 2 tablespoons of the butter and 3 tablespoons of the olive oil in a large skillet over medium heat. When the contents begin to sizzle, add the chicken 2 pieces at a time. Cook for 4 minutes per side, flip the chicken then cook the other side for 4 minutes or until browned. Transfer the cooked chicken to a plate and set aside.
Melt another 2 tablespoons of butter and olive oil and repeat the entire process with the other 2 pieces of chicken.
In the same skillet, add the fresh lemon juice, chicken stock, and rinsed capers. Bring the mixture to a boil scraping the pan often. Add more salt and pepper if necessary and then return the 4 pieces of chicken to the skillet and allow it to simmer over low heat for 5 minutes.
Remove the chicken and transfer to serving plates.
Add the remaining 2 tablespoons of butter to the skillet and whisk vigorously to mix well. Simmer for 1 minute.
Pour the sauce over top of the chicken then garnish with chopped parsley.
Serve the chicken piccata while hot along with a side of steamed asparagus.