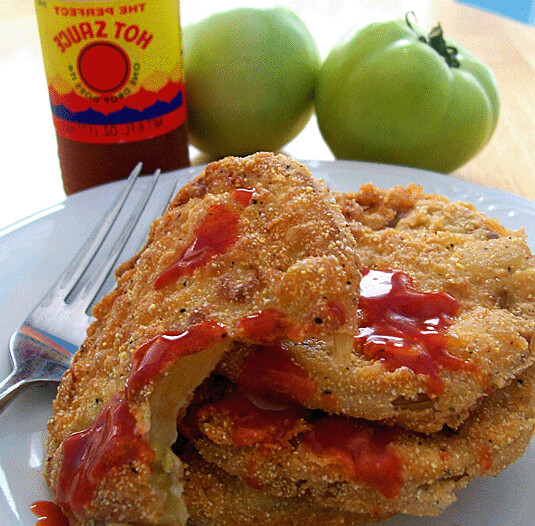 Are as we call them in the South fried green maters. Fried Green Tomatoes really became quite popular after the movie "Fried Green Tomatoes" who can forget that classic? But this recipe is as old south as it gets. I have saw many recipes over the years that have all kinds of spices included but the real version only has salt and pepper. For a breakfast dish you add some gravy on top of them. This is a tangy taste that people just seem to love.
Print Recipe
FRIED GREEN TOMATOES
Ingredients
3

large green tomatoes

1

cup

all purpose flour

1/2

cup

cornmeal

1

teaspoon

salt

1

teaspoon

pepper

sunflower oil for frying
Instructions
In a saute pan on medium head add enough oil for frying.

In a medium sized bowl add flour, cornmeal, salt and pepper, mix well. Slice tomatoes 1/2 inch thick and rotate in flour mixture, generously covering. Fry tomatoes on each side until golden. Drain on a paper towel.