Many people enjoy different cuisines at home, and Japanese cuisine is growing in popularity all the time. This dish combines a traditional favorite, chicken nuggets, with Japanese flavors like nori, soy sauce, and sake. For anyone who enjoys chicken nuggets, this will be a fun variation. For those who enjoy Japanese cuisine, it will give you another easy recipe to add to your menu. You can think of it as extremely simple sushi without the rice if you wish. If you want to eventually learn to make your own sushi, this is a wonderful recipe to practice with, as it will teach you how to work with the nori.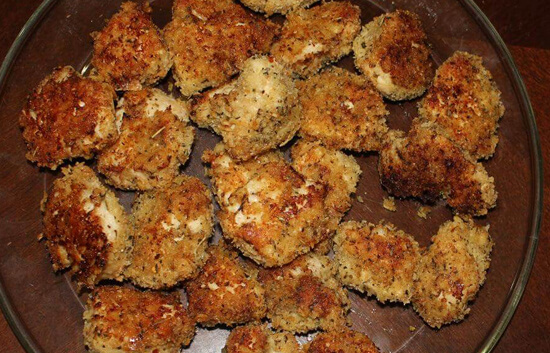 These homemade chicken nuggets are really easy. Just cut up some boneless chicken (you can use chicken breasts or thighs), marinate them briefly, and wrap them in nori sheets. Deep fry them and you will be enjoying a terrific chicken nuggets recipe. You can dip them in teriyaki sauce or any other Japanese dipping sauce you prefer.
Serve on their own as a snack or appetizer or make them part of a Japanese meal featuring rice, pickled cucumber salad and other traditional dishes. Nori is very nutritious and adds a lot of minerals and vitamins to your diet. Considered a sea vegetable, nori is a great source of iodide, calcium, and protein. It is also full of potassium, phosphorus, iron, zinc, copper and many other nutrients that we need but may be lacking in our normal diet.
Ingredients –
7 ounces boneless, skinless chicken breasts
2 Tablespoons soy sauce
2 Tablespoons Sake
1 or 2 sheets of nori (dried seaweed sheets used for sushi)
1 egg white
Oil for frying
Preparation:
Cut the chicken into bite size pieces about 1 to 1½ inch long. Remove any fat or tendon tissue that may still be attached.
Soak the chicken in a bowl containing the soy sauce and sake. Cover the bowl with plastic wrap and put it in the refrigerator to marinate for an hour or more.
Using a pair of kitchen shears, cut the nori into half inch wide strips. Lightly beat the egg white in a small bowl.
Remove the chicken from the marinade. Take a nori strip and lightly dip it into the egg white. Wrap it firmly around the piece of chicken, centering it so the chicken sticks out both ends. Seal the nori together with the egg white. Repeat with all of your chicken pieces.
Heat the oil in a wok or deep fryer. Deep fry the chicken in small batches until they are just done. The outside should be golden brown and tender. This may take 3 or 4 minutes. Use a slotted spoon to remove the chicken from the hot oil and let them drain on paper towels. Serve immediately.