This creamy, tangy and crunchy coleslaw is the perfect addition to any meal. Whether it's a backyard BBQ, a family gathering, or just a quick lunch, KFC coleslaw always hits the spot.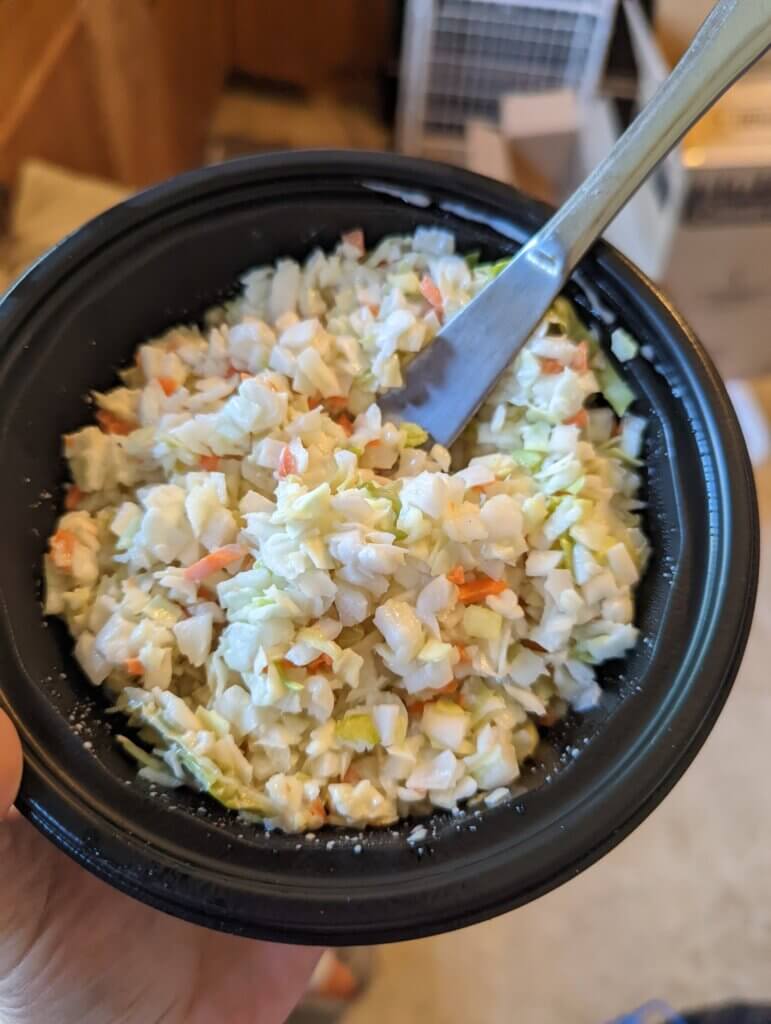 I remember the first time I tried KFC coleslaw. I was skeptical at first because I wasn't a big fan of coleslaw. But, I decided to give it a try and I was blown away. The creamy dressing, mixed with the crunchy cabbage and carrots, was the perfect combination of flavors. I was hooked from that first bite.
Since then, KFC coleslaw has become a staple in my diet. Whenever I'm craving something crunchy and creamy, I reach for this dish. I love the tangy flavor that the lemon juice and vinegar bring to the table. And, the addition of sugar just takes it to the next level.
Not only is KFC coleslaw delicious, but it's also incredibly versatile. You can pair it with just about anything and it will complement the meal perfectly. Whether you're having fried chicken, hamburgers, or hot dogs, this coleslaw is the perfect addition.
One of my favorite things about KFC coleslaw is how easy it is to make. With just a few simple ingredients, you can whip up a batch of this delicious side dish in no time. It's perfect for those busy days when you don't have a lot of time to spend in the kitchen.
Another great thing about KFC coleslaw is that it's perfect for meal prep. I like to make a big batch on Sunday and then have it as a quick and easy side dish throughout the week. It's a great way to add some variety to my meals and make sure I'm getting my daily dose of veggies.
So, if you're looking for a delicious and versatile side dish, look no further than KFC coleslaw. Trust me, you won't be disappointed. Whether you're a coleslaw fan or not, this dish is sure to win you over. So, go ahead and give it a try, I promise you won't regret it!
In conclusion, KFC coleslaw is one of my all-time favorite side dishes. It's creamy, tangy, and crunchy, and the perfect addition to any meal. So, if you're looking for a delicious and easy-to-make side dish, give KFC coleslaw a try. I promise, you won't be disappointed!
Print Recipe
KFC Coleslaw Recipe
Moist KFC coleslaw is a creamy, tangy, and crunchy side dish made with cabbage, carrots, mayonnaise, buttermilk, milk, lemon juice, vinegar, salt, and pepper. Perfect for any meal, it's easy to make and versatile.
Ingredients
1

head of cabbage

finely chopped into approximately 8 cups

1

carrot

shredded into 1/4 cup

2

tablespoons

of minced onion

1/3

cup

of sugar

1/2

cup

of mayonnaise

1/4

cup

of buttermilk

1/4

cup

of milk

2 1/2

tablespoons

of lemon juice

1 1/2

tablespoons

of white vinegar

1/2

teaspoon

of salt

1/2

teaspoon

of pepper
Instructions
In a large mixing bowl, combine the milk, mayonnaise, sugar, lemon juice, and vinegar.

Add the chopped onion, shredded carrots, and chopped cabbage to the mixture, along with salt and pepper.

Toss the ingredients together to ensure that the vegetables are evenly coated with the dressing.

Cover the bowl and refrigerate for at least 2 hours (or up to 8 hours) before serving.
Notes
The carrot and cabbage should be chopped into small, rice-sized pieces before adding them to the dressing.
Leftovers can be stored in the fridge, covered, and consumed within 2 days.
The recipe can easily be halved if desired.